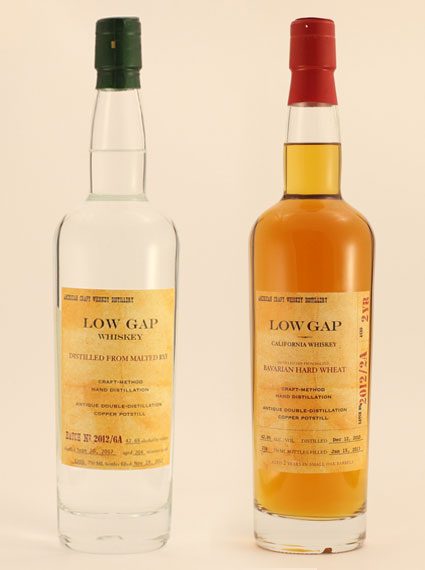 Prices are those listed by our Ukiah CA neighbor Caddell & Williams. At your local store, prices may vary significantly, due to transportation costs, state excise taxes, and the pricing structure of the store and of the distributor.
"This sort of production is unusual for Whiskey. Even among the so-called "Micro-Distillers", very few are fermenting their own wash, and almost no one is distilling literal "small batch" whiskey in a true Cognac- Style still. I mean, it is a 16 hectolitre still: if that isn't "small batch", nothing is. What you get is something amazingly aromatic, yet at the same time incredibly clean. There are great aromas. The spirit is so well distilled that it makes you forget that it is completely unaged"
– blogger Erik Ellestad, Savoy Stomp, reviewing the Clear Wheat 2/18/2011
Tasting Low Gap
Small cognac stills are superb pieces of equipment, and Crispin Cain is a master at extracting soft, clean, rich, pure, and wondrously flavorful. The review in Malt Advocate that awarded "Artisan Distiller of the year" said, essentially, "we can't believe we are awarding this to a clear whiskey". These whiskies are amazingly soft and rich, with beautiful finishes.
Releases
Low Gap Barrel Strength Rye – $180.  210 bottles aged 3 years in air-dried oak. Extraordinary whiskey: elegant, subtle, beautifully balanced. 63% abv.
Clear Rye – $45. Malted rye. Full rye body. The roughness of most ryes is here tamed by the small cognac potstill. Fabulous. Bottled November 2013. Paul Pacult: "if not the finest white whiskey I've ever tasted, damn near the best".  44.1% abv.
Straight Bourbon – $70. Crispin Cain started distill whiskey for sale in 2010, but he waited for three years before making a bourbon because he wanted to feel completely confident in the process.  The mash bill is corn, malted barley, and malted rye; aged in selected new bourbon barrels. A number of devotees have told us this is the best bourbon they have experienced. Crispin's take is here. 43.2% abv
Barreled Rye – $70. Very smooth, very rich. Full rye body. 100% rye malt extract. Fabulous.  Aged 2 + years in new and used bourbon, used cognac barrels and new small cooperage barrels from Minnesota. 42.2% abv.
"delicious… expertly crafted"

– WHISKEY ADVOCATE
Barreled Wheat – $75. Bottled at 2+ years, this amazing whiskey shows what can be accomplished by a master working on a cognac still. Smooth, rich, surreal. 43.1% abv Sold Out. 
Four Year Barreled Wheat – $75. A blend of 4 and 5 year old whiskies from 2010 and 2011. These were some of the first whiskies Low Gap produced. The flavor is dense and complex. 45.5% abv.
Blended Whiskey – $75. Malted corn and barley. Aged in used Van Winkle barrels and new Missouri oak bourbon barrels.  Amazingly mellow. soon.  46% abv.
100 Proof Barreled Wheat – $75. From malted Bavarian hard wheat on the Germain-Robin 16HL antique cognac still.  Aged 2+ years in a special selection of three new and used American oak barrels. 50% abv.
"long, spicy finish"

– WHISKY ADVOCATE
Single-barrel no.2 – $75. Mostly malted Bavarian wheat. This bottling was aged in a 200-liter new white oak (Minnesota) barrel of exceptional quality and descended to bottling proof with filtered rainwater. 50.2% abv Sold out.