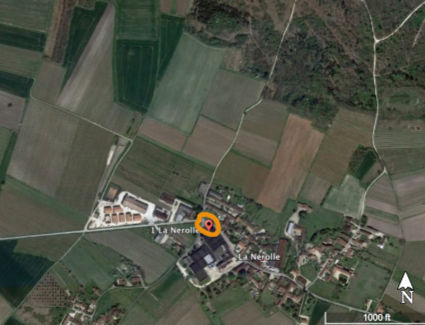 Pierre de Segonzac is an estate cognac. Every grape used for distillation wine comes from the family's small (19 1⁄2-acre) and carefully tended vineyard next to the distillery (and it's where they live). Grapes grown for distillation into cognacs are classified into specific districts according to the quality of their soils. The Grande Champagne district, due to the high content of chalk in the soil, has the best soils. Segonzac's grapes are famous. The circle is the house and distillery; the vineyard is the green patch above and to the left.
Champagne means open countryside: soils so thin that the land is not forested. The famous sparkling wine is called "champagne" for the same reason. These soils are usually mineral (limestone) and produce grapes with high acidity, which distill into cognacs of deep focus that age well. Grapes that struggle to grow have wonderful flavor and complexity.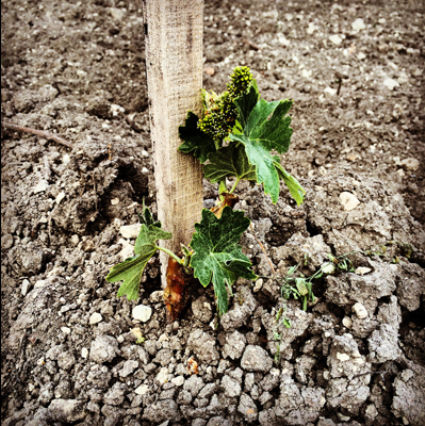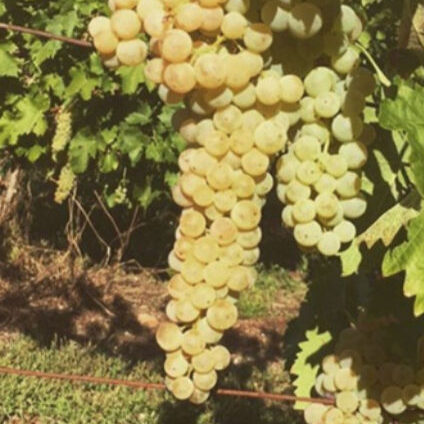 Harvest is usually late September to mid-October, dates which preserve the high acidity of the estate grapes (100% ugni blanc). The grapes are crushed – gently – in a bladder press, and fermented in two open tanks, each with a differing yeast. The relatively quick fermentation (usually 5-6 days) to absolute dry (zero residual sugar) is important – as is the high acidity – to preserve the quality of the wine. The wine is kept on lees for 3 months as it goes through a natural secondary malolactic fermentation. This old mode – now rare – increases the cognac's richness and gives it a fuller mouth-feel, especially since the wine is distilled on its lees. Look for this when tasting.