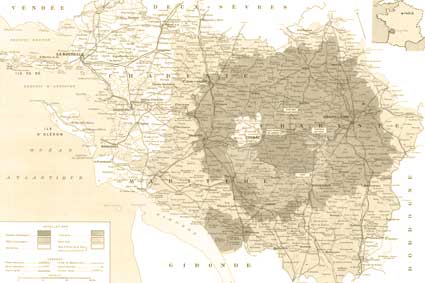 Surrenne, like all cognacs, is distilled from grapes. Maison Surrenne cognacs are distilled from grapes grown in four of the 6 legally delimited Cognac regions. The vineyards of petite champagne, which encircle the famous grande champagne, grow in soils whose chalk is more compact and in a climate more influenced by the sea and the continental mass. Cognacs from this district – like Surrenne's Ancienne Distillerie – are softer, fruitier, and more accessible than their austere grande champagne cousins, and have appealing floral overtones. Lighter and less ponderous, but for the most part lacking grande champagne's subtle finesse most petite champagne cognacs tend to age fairly rapidly. Bottled young, they preserve the wonderful soft fruitiness, which tends to disappear with lengthy aging.
The tiny borderies district (home of the Surrenne Distillerie Galtauld) contains clay soils deposited in ancient times by the Charente river. These heavier soils impart substance to distillates. Borderies cognacs are typically used to give body to more delicate blends. Many plantings have a southern exposure, so that the best borderies grapes are known for their rich fruitiness. Cognacs from the borderies do not require extensive aging but good ones respond well to extended time in oak.
The grande champagne district is gently hilly, and the soils are rich in porous chalk; the rainfall is less than in other districts, which creates deeper flavor in the grapes. Grande champagne cognacs require lengthy aging due to the huge percentage of limestone in the soils. In return, they slowly yield an unequaled delicacy, perfume, and finesse, with unrivaled length—persistence of both aroma and taste. The XO Maison Surrenne is from grande champagne, often from a single vintage.