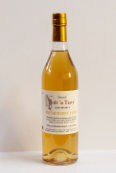 Corn Whiskey Re-imagined
This whiskey is close to perfect. It's about turning fresh corn directly into whiskey on a beautiful hand-operated still.
It's about concentrating and purifying flavors that come directly from the fresh ear of corn, about fermenting a soft rich elegant liquid that brings its flavors and aromatics as cleanly as possible from that actual ear of corn.
Elegant, rich in flavor, incredibly smooth, very easy to drink.
Devin's Soft 'n Tasty Corn Whiskey
Batch 1, 371 cases.
Lovely golden color. Rich fresh corn aromatics and flavor.
Soft and mellow on the palate, with zero whiskey bite.
Unfiltered to preserve the deep flavor.
One of the finest whiskies on planet Earth.
750 ml / 42.5% abv. RSP $60.00