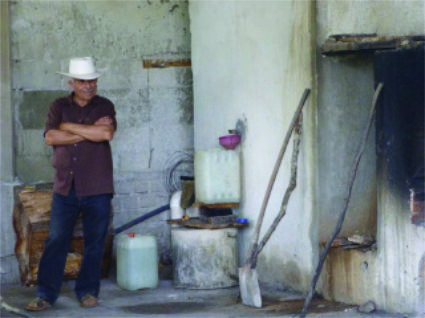 All of this means very little absent the skills, talent, and knowledge of the distiller, knowledge and expertise learned from hands-on work at every level, handed from father to son to grandson: how best to plant and tend agaves, the precise time to harvest, how best to roast, how best to ferment, modes of distillation, adjusting techniques to suit the individual batches of agaves being distilled. Such understanding comes not from studying, or working: it comes from being.
A great mezcal comes from a specific culture, a specific social context, an individual pueblo, whose roots go back millennia, interlaced with the agave itself. This is a rare and precious treasure. Let's not allow it to disappear.
It's why great agave spirits exist.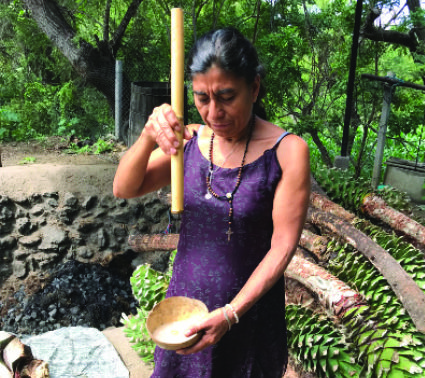 COMUNIDAD NO. 1 BRAMADEROS A rich mezcla of 5 wild agaves, BARRIL, BICUISHE, COYOTE, MADRECUSIHE, and MEXICANO, with cultivated ESPADÍN, grown at +/- 5600 feet in shaley ferriferous soils. Complex and very clean: Alberto Ortiz, "Don Beto", is a master of Karwinskii. Bramaderos, pop. 578, is at 5500 feet in Miahuatlan. The batch was distilled October 4, 2017. 731 bottles at 48% abv. $110 video
COMUNIDAD NO. 2 EL LAZO A lovely 220-liter batch of COYOTE, a local variant of agave Americana var. Oaxacensis grown from wild stock and harvested from La Casita, a steep hillside planting, by the distiller, Ángel Cruz Robles. This man knew his agaves intimately, Earthy, intense, complex.  The batch was distilled January 14, 2021. 289 bottles at 52.69% abv. $120 video
COMUNIDAD NO. 3 RANCHO VIEJO A small 197-liter batch of wild Mexicano (agave rhodacantha), distilled in a small pueblo south of Sola de Vega. Distiller Gabino Ramirez, self-taught, rents a small still in the village and ferments is in small cylindrical vats; the separated fermentations add complexity. The mezcal is a single distillation to proof, using a refrescadera mounted atop the still, which increases the rectification of the distillate. Soft and richly vegetal. The batch was distilled June, 2021. 263 bottles 750ML at 47.1% abv. RSP $105
Visiting Gabino and Jacopo Juarez
COMUNIDAD NO. 4 AMATENGO We rescued the last 40 liters of a fabulous batch distilled from wild and exceptionally mature tepextate (agave marmorata) that son Luis was pouring in his mezcaleria in Oaxaca city. Distiller Sergio Juárez performed a single distillation to proof using a refrescadera; The batch was distilled January 14, 2022. 55 bottles 750ML at 47.3% abv. RSP $120
Visiting Sergio and Luis Juárez Ramirez
COMUNIDAD NO. 5 BRAMADEROS A delicate blend (mezcla) of espadín (agave angustifolia) and wild bicuishe (agave Karwinskii)  distilled by Don Beto's son Onofre Ortiz, at the family distillery. The rolling hills of ferriferous clay-shale soils in Miahuatlan produce exceptional Karwinskii; the local mezcals are among Oaxaca's finest, The batch was distilled in December, 2021. 293 bottles 750ML at 47.4% abv. RSP $89
Visiting Alberto (Don Beto) and Onofre Ortiz
COMUNIDAD NO. 6 AMATENGO  Amatengo was once famous for its wild barril (agave Karwinskii). Sergio Juárez is deliberately restoring the reputation. Single distillation to proof preserves the floral/herbal characteristics of mezcals from this large slow-growing agave. Creamy and intense with nice minerality. The batch was distilled in February, 2022. 140 bottles 750ML at 48.8% abv. RSP $102
Visiting Sergio Juárez Ramirez
COMUNIDAD NO. 7  RANCHO VIEJO A small and exceptional batch of wild tobalá (agave potatorum), distilled in a small pueblo south of Sola de Vega. Distiller Gabino Ramirez' father Jacopo showed up when we were picking up Gabino's mezcal and showed us this little beauty. Single distillation to proof using a refrescadera captures the delicacy of this agave, for which Sola de Vega is justly famous. Elegance from the region's chalky soils. The batch was distilled in March of 2021. 151 bottles 750ML at 48.1% abv. RSP $120
Visiting Gabino and Jacopo Juarez
COMUNIDAD NO. 8 BRAMADEROS  A powerful and very unusual blend, distilled by Onofre Ortiz, of 6 wild agaves (arroqueño, bicuishe, coyote, madrecuishe, Mexicano, and tepeztate) against a calm backdrop of espadín. Beautifully balanced and very very complex. Don Beto said regretfully that he had been saving this for himself. The batch was distilled December 9, 2021. Do not miss this. We have only 80 bottles. 750ML at 48.6% RSP $120 
Visiting Alberto (Don Beto) and Onofre Ortiz
COMUNIDAD NO. 9  SANTA CATARINA MINAS Wild sierrudo, a very large variety of agave Americana that takes a long time to mature, some 20 years. Lactic, herbal complexity, rich long finish The batch was distilled in March, 2022. 55 bottles 750ML at 50.1% abv. RSP $172
COMUNIDAD NO. 10 SANTA CATARINA MINAS Wild tobasiche, a variety of agave Karwinskii, one that also takes a long time to mature. Gently rich, nicely round. The batch was distilled in November of 2021. 55 bottles 750ML at 51.9% abv. RSP $125
COMUNIDAD NO. 11 SANTA CATARINA MINAS Wild jabalí, agave convallis, an agave so hard to distill that many avoid it. Creamy and sweet, fabulous length. A masterpiece. The batch was distilled in February, 2022. 55 bottles 750ML at 51.9% abv. RSP $161
COMUNIDAD NO. 12 SANTA CATARINA MINAS  Wild tripón, a local agave Karwinskii variant that is very rarely distilled. Rich and spicy complexity. The batch was distilled in March, 2021. 48 bottles 750ML at 46.8% abv. RSP $172