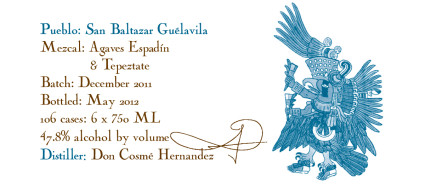 Prices are those listed by our Ukiah CA neighbor Caddell & Williams. At your local store, the price(s) may vary significantly, due to transportation costs, state excise taxes, and the pricing structure of the store and of the distributor.
"The Mezcalero series is without a doubt the finest collection of mezcals I've ever tasted. Nothing from Del Maguey or any other bottler even comes close" 
– David Driscoll, K&L Wines

One of Top Spirits 2010 "If tequila is too tame for you, check this out: remarkable and complex. 94 points " 
– Anthony Dias Blue, Tasting panel magazine
Tasting Mezcalero
Wild agaves have intense and specific flavors, usually complex. Tasted side by side, the Mezcalero bottlings suggest the amazingly wide range of qualities and flavors to be found in well-distilled agaves: the suavity of Sierra Negra, the spiciness of Tepeztate, the elegant finesse of Tobalá. The Mezcalero bottlings are very well-distilled, very "clean". They are about as good as mezcal gets.
How do these mezcals differ from their name-protected mezcal cousins from Tequila? First, artisan mezcals are smoky because the agaves are not steamed in an autoclave (modern industrial tequila production), or roasted in an enclosed oven (like many small-production tequilas), but roasted in an in-ground fire-pit above a live wood fire. Second, artisan mezcal producers distill the agave solids along with the fermented agave juice, whereas tequila producers filter the solids out and distill liquids only. For this reason, artisan mezcals embody more of the vegetal components of the agave, thus are noticeably more complex and, to our taste, richer.
Current Releases
The Mezcalero releases are numbered; their labels specify the agaves, the distiller(s), and the number of bottles in the batch. Right now, Mezcaleros nos. 1 – 15 are sold out; so is Special Bottling no. 1
Special Bottling no. 2 – $135. Finest mezcal in bottle. Hand-distilled in October and November of 2012 by Don Valente Ángel in Santa Maria Pila. Wild Dobadaan (agave rhodacantha) found on a south-sloping hillside called La Loma de la Mojonera. Rested in tank for 3+ years. Profound depth and ethereal, calm delicacy. 47.4% abv.
Mezcalero 16 – $96. 100% semi-wild Madrecuishe at the hands of Don Valente Angel of Santa Maria la Pila. Don Valente knows madrecuishe very well: very clean, very soft, tons of flavor. 47.1% abv
Mezcalero 17 – $96. Blend of Espadin with the excessively rare wild Agave de Lumbre. Cirilo Hernandez has a delicate touch: soft, rich, approachable. 48% abv.