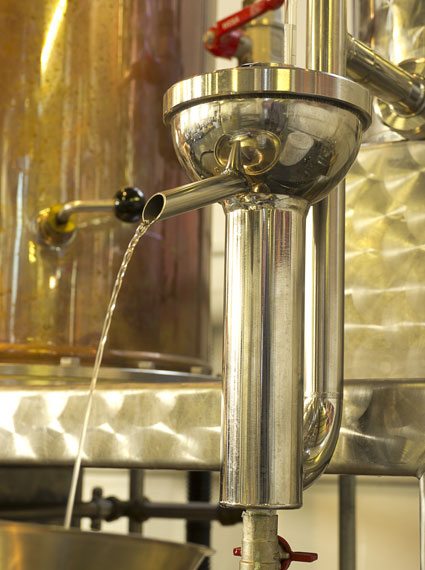 Hand-crafted Excellence
In 2004, Guy Rehorst started Milwaukee's first distillery since prohibition. Production came on line in 2006. Since then they have released an impressive stream of first-class distilled spirits. Here's Guy on the GLD website: 
"Everything is mass–produced these days. Large corporations are filled with cubicle dwellers counting beans. Mom and pop stores have been replaced by megaboxes selling sweat socks made in sweatshops in some country whose name I can't even pronounce. Even your favorite hooch is being made by robots in huge industrial plants. You deserve better than this.
"Well, we're not going to take it lying down! Great Lakes Distillery is doing it the old– fashioned way: small–batch spirits made with old–world methods. Result? Products with great taste and real personality."
Great Lakes uses premium ingredients, German potstills, and rigorously clean production methods. Their website at www.greatlakesdistillery.com has tons of unusually straightforward info. Check out their great video section under "more" on the home page.
releases
Amerique 1912 Absinthe Rouge – $35. Unlike almost all other absinthes, the color is real: from the botanicals. Infused, distilled on a small copper pot, then reinfused with additional botanicals. The color is (wow!) hibiscus. Highest absinthe score ever, a 95!!!, from the Beverage Tasting Institute.
Amerique 1912 Absinthe Verte – $35. Almost all green absinthes use food coloring. Not here: the green is real: from the botanicals themselves. Infused, distilled on a small copper pot, reinfused with additional botanicals. Huge 94-point score from the Beverage Tasting Institute.
Great Lakes Pumpkin Spirit – $49. Seasonal distillation of a local brewery's pumpkin lager. The recipe was used by Thomas Jefferson at Monticello. Creamy & malty, spice overtones. Nice. Scarce.
Kinnickinnic whiskey – $39. England's Whisky Magazine's 2013 "American Whiskey of the Year". Great Lakes sources good bourbon from a Kentucky distillery, then blends in their own twice-distilled malt and rye whiskies (using 4 specialty toasts), enhancing older oak-enriched bourbon flavors with the flowery appeal of lightly-aged malt and rye. Unfiltered. A bargain.
Menomonee Valley Rye – $70. 75% rye + corn and malt. Very nice rye. Only 544 bottles produced: scarce.
Rehorst Premium Milwaukee Gin – $35. Nine carefully selected botanicals, including two innovations: sweet basil and local ginseng. 92 from Anthony Dias Blue; double gold at the SF spirits Competition. Nicely balanced spirit.
Rehorst Premium Milwaukee Vodka – $35. From Wisconsin red wheat. Soft wheat mouthfeel, floral with mineral overtones. Very clean. Silver medal at the SF Spirits Competition. (750ml / 40% abv)
Rehorst Citrus & Honey Vodka – $35. Real fruit, plus honey from clover and basswood. Zero additives. Authentic citrus overtones. None of the cloying sweetness of most fruit vodkas.
Roaring Dan's Rum – $35. Twice-distilled molasses; maple syrup is added before the second distillation. Aged in a mix of new white-oak and used bourbon barrels. Soft, rich, and buttery, with a long dry finish.