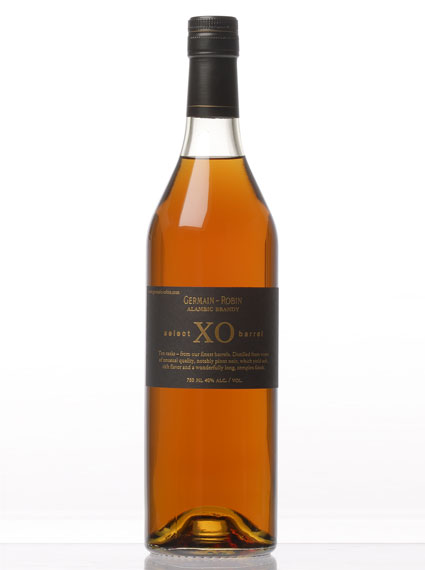 Prices are those listed by our Ukiah CA neighbor Caddell & Williams. At your local store, prices may vary significantly, due to transportation costs, state excise taxes, and the pricing structure of the store and of the distributor.
"No cognac is as good as Germain-Robin"
– Dan Berger, LA Times
Tasting Germain-Robin
Germain-Robin brandies have no alcoholic roughness. Due to their origin in premium table-wine grape varietals, Germain-Robin brandies are unusually aromatic and flavorful, with no hint of harsh alcohol. It is interesting to compare any of them to a glass of cognac. Note the absence of the usual slight burning sensation in the nostrils ("attack"). Almost all brown spirits add about 2% (or more) of sugar and caramel: these coat the sugar receptors on the front of your tongue, giving a false impression of smoothness which disappears when you swallow: the back part of your mouth and the top of your throat have no sugar receptors, so harshness, or "bite", is immediately apparent. Germain-Robin has no "bite" naturally: from the high quality of the grapes we use.
Good wines are complex. So are brandies made from good wine grapes. The characteristics of the individual grape varietal are concentrated by distillation: brandy distilled from sauvignon blanc is very different from brandy distilled from semillon. The rich variance of flavors and aromas among our varietal brandies allows us to assemble blends that are remarkably complex yet stay unusually balanced. Notice how many areas of your mouth get flavor when you taste.
World-class grapes give us rich flavor, yet the brandy remains subtle and delicate. The flavors are purer, cleaner and more genuine – no need for the oak flavoring, sugar, and caramel that European producers add to make up for their more neutral grapes, their harsher alcohols, and their use of huge aging tuns.
Releases
Standard bottlings
Select Barrel XO – $120. A blend of some 12 brandies, roughly 80% of the volume pinot noirs. The components are mostly about 17 years old. When we released this brandy (1996), Robb Report Magazins's expert panel named it #1 in their list of the world's "Best of the Best" liquors (#3 was the "Richard Hennessy" cognac, currently priced at $3000). Very long and complex finish.
Craft Method Brandy – $48.  VSOP-level, with a nice admix of older brandies. Colombard is the main component, with pinot noir, riesling, zinfandel – and others. Fresh, light fruitiness, excellent body. Unbelievable quality for the price. Outscored noted cognacs Delamain Pale & Dry and Martell Cordon Bleu in expert blind tastings (1989).
"Finest on the planet"
– SPIRIT & COCKTAIL MAGAZINE
Coast Road Reserve – $72. "Dark & brooding" (distiller/cellarmaster Joe Corley). Deeply fruity, nicely oaked. Lots of pinot noir in the blend (mostly about 9 years old), so a wonderful long complex finish. Includes brandies more than 20 years old.
Heirloom Apple Brandy – $65. Delicately distilled Anderson Valley apples from heirloom cultivars: Black Twig, Ribston Pippin, Wickson. These apples would have disappeared if we had not started making brandy from them. Great apple flavor, alive and complex. Way better than most Calvados.
Old Havana – $120. Rich deep fruit, nicely oaked, very very mellow. In 1995, during the cigar craze, we bottled a blend called "For the Lover of Fine Cigars". When the craze died down, we changed the label to Old Havana, then (2001) decided to use the components for XO production. In 2009, we used the 5 surviving barrels to start a solera. "One of the world's great spirits"(Mens' Journal)  Armagnac lovers prefer it to the XO. Unfiltered.Old/Limited Brandies
Apple XO – $95. We started distilling apples in 1991. One barrel, blended from our older distillates. Makes aged calvados seem stale & dead. Beautiful (& scarce).
Single Barrel Varietal Brandies. Each bottling is one barrel (some 400 bottles) distilled from a single grape varietal and aged unblended, a very pure and focused expression of fine wine-grapes. The barrel number has the prefix V, "vieux" = French for "old": we age these brandies in used barrels so that they don't become over-oaked. Cognacs of comparable quality sell for $300-400. Unfiltered.
V171 1986 Colombard – $180. 23 years old, beautifully soft, disturbingly easy to drink. ★★★★★  from Pacult's Spirit Journal. 42.8% abv.
V320 1998 Riesling – $180. Beautifully aromatic, with focused Riesling character. The distilling wine had heavy lees, which makes for mucho flavor. Does anyone else distill these grapes? Long finish. 41.9% abv.
V217 2001 Pinot Noir – $150. Distilled from grapes grown and vinified by Roederer Estate. Exceptional. Spirit Journal called an earlier version "Perfect brandy". 40.6% abv
V139 1994 Semillon– $150. "Full, deep, very rich. ★★★★★"  from Pacult's Spirit Journal. 44% abv.
Small Blends. One-time blends, comprising some 200-700 bottles, drawn from an unmatched inventory of old & beautifully made varietal brandies. Among the components of 2011's Small Blend no. 1 (220 bottles) are a 1990 pinot noir from Mendocino County's oldest planting and a rich 1983 French colombard, twenty-eight years old. Unfiltered.
Anno Domini – $350. Exquisite aged pinot noir. Three different consumer magazines named it the best grape spirit in existence. Brilliant and soft, with a creamy sherry note from a touch of 1984 palomino brandy. No longer produced.
"Superior to Hennessy Paradis. Equal to the very best old cognacs"
– New York Times
GR/30 – $500. 1st release October 2014. Brandy from 30 years ago (1983 and 1984). Unfiltered.
Varietal Grappa
Just about every other year, if we get suitable grapes, we prepare a small batch of grappa, distille from whole grapes on our antique cognac still. A batch requires four separate distillations and almost a year of cellar work. Rainwater is used to bring our grappas to bottling proof. Intensity from great wine grapes, pronounced varietal character. Rich flavor, yet very soft; flowery, complex, and smooth. The Syrah of 2003 was Food & Wine Mag's Grappa of the Year.  375ML bottles.
Gewurztraminer – $55. Lovely Gewurz floral delicacy, ever so soft.
Syrah/Zinfandel – $55. Blend of two favorite varietals: lush fruit, precise Zin structure, deep Syrah presence.
Viognier – $85. Old-vine, all apricot & peach/pear, utter succulence. The 2001 release was awarded a 97 by Wine Enthusiast, highest rating they ever gave a grappa.
Zinfandel– $55. An earlier version won a gold medal at Monterey. Clean, smooth, spicy.
"Grappa for people who don't like Grappa"
– MARKET WATCH

"Extraordinarily graceful and genteel… highly recommended!"
– SPIRIT JOURNAL

"Allow you to taste the varietal grapes they began as"
–FOOD & WINE

"Beautifully crafted, without the harshness equated with Grappa"
– UNDERGROUND WINE JOURNAL