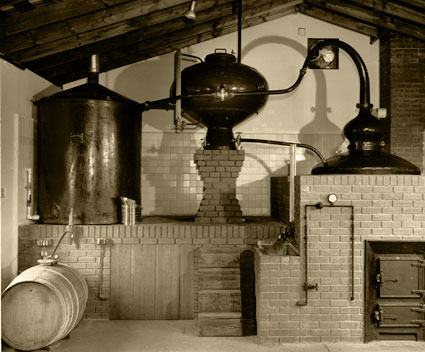 Germain-Robin Still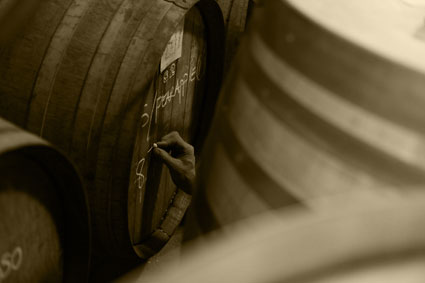 Taking Inventory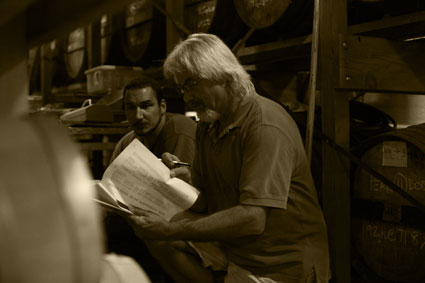 Taking Inventory
Our brandies are consistently reviewed as better than cognac. How can that be? It's because distillation is, at heart, concentration and purification of what's inside the still, and we enjoy a number of advantages in what we distill and how we distill it. Here are a few of the quality factors:
Antique cognac still. We deliberately looked for an old cognac still. We think that cognac stills deliver the perfect balance between rich flavor and subtle delicacy. We think the best size is 12-17 hectoliters, 50-70% of the size of the standard modern cognac still. Also, any still manufactured since about 1950 is designed to operate automatically, and we wanted to distill entirely by hand: make the cuts by hand, constantly monitor the distillate coming off the still, adjust the heat, adjust the temperature inside the condenser.
Premium varietal wine grapes. Cognac and armagnac are distilled from fairly neutral grapes, grapes that make indifferent table wine. We experimented from the start with local grapes that make excellent table wines and have distilled them exclusively (see ingredients). We distill and age the varietals separately to focus on their distinctive qualities.
Mendocino climate. Perfect for distillation grapes. Mendocino summer days are hot, in the 90s and even in the 100s, which mean that grapes develop a lot of flavor. The nights are cool, often as low as 55°, which preserves high acidity in the grapes, providing well-defined flavors plus good structure and length. There is practically no rain before we harvest: we always get grapes free of mildew, with no need for the sulfur applied in rainy climates. Finally, the climate is consistent: we can wait until the grapes are perfect for harvest, and are never delayed by cold or rainy weather.
Modern vinification equipment. State of the art because we vinify at wineries who are making excellent table wine: bladder presses, stainless steel tanks, controlled refrigeration. These preserve and enhance the quality of the grapes, allow us to keep the wine chilled so it is still excellent for distillation 3 months after it is vinified, allow us to use special yeasts, allow us to control and slow down fermentation, to obtain complete fermentation, to choose whether or not to put wine through malolactic fermentation (less fruitiness/richer mouthfeel). The quality of the wine we use for distillation is extraordinary.
Old-fashioned, time-consuming methods in the cellar. 80% of production is cellar work: keeping track of what's in our $1200 Limousin oak barrels, slow descent to proof using filtered rainwater, moving aging distillates from new to used barrels, taking the time to allow our blends to marry (often several years), using faibles in adjusting to proof, slow cold stabilization, minimal or no filtration.